'2017-18 was a defining year for Indian economy'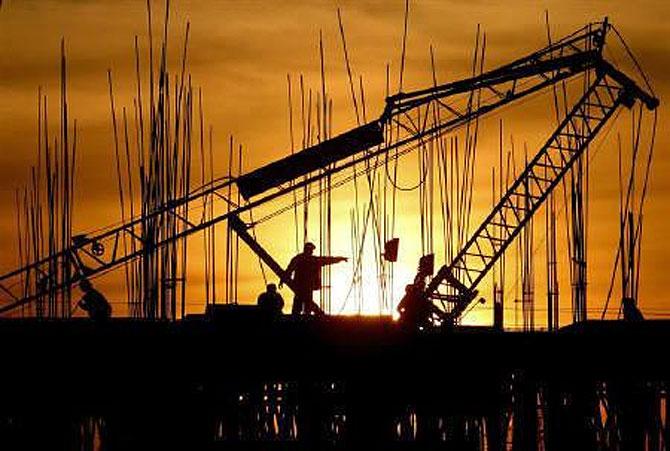 UPA v/s NDA: Qualitative difference
However, if one goes into comparison between where UPA had left the economic growth and the NDA's performance, it does seem that GDP expansion in 2017-18 is officially estimated to be just 0.2 percentage point higher than 6.4 per cent handed down by the Manmohan Singh government in 2013-14, a period ridiculed for its so-called "policy paralysis".
In between, the NDA did push the growth upwards to 7.4 per cent in 2014-15 and then to 8.2 per cent in 2015-16.
Bibek Debroy, chairman of the economic advisory council to the Prime Minister, however, feels that growth achieved by the UPA was due to fiscal profligacy.
"The question is not what growth rate has been delivered, but about fiscal consequences of that growth. The question about the UPA growth was not about the growth figure, but about the way that growth happened," says Debroy.
So far, as fiscal deficit is concerned, the NDA paused on fiscal deficit target thrice.
The Budget Estimates of reining in fiscal deficit at 3.2 per cent of GDP was revised upwards to 3.5 per cent for 2017-18.
Even the revised target seems difficult to achieve unless expenditure was squeezed. The fiscal deficit figure for the April to February period 2017-18 (11 months) was 20.3 per cent higher than revised estimate for the entire fiscal year.
The parameter on which the NDA government succeeded remarkably is inflation.
This may also be due to Monetary Policy Committee, which has been given the mandate to contain consumer price index-based inflation between 2 per cent and 6 per cent.
If the average inflation breaches this range in any three consecutive quarters, the Reserve Bank of India (RBI) will have to explain the reasons to the government.
Inflation never breached this range in 2017-18, except for the month of June. That time, inflation was outside the lower range and stood at 1.46 per cent, initially leading to worries over low inflation.
Exact contrast to this, inflation exceeded 4 per cent for the fourth month in a row till February. However, inflation has been coming down from the high of 5.21 per cent in November and stood at 4.44 per cent in February.